RMR is known for big elevation! Fall-line vert, groomers, powstashes, inbound steeps. Similar to other Western Canadian resorts it's also known for an open boundary approach.. With these open boundaries comes access to fairly serious backcountry that's decidedly above average in quality and quantity.
Of course, from the inbounds perspective RMR isn't resting on its laurels. The new Steller chairlift opened up this year giving the lower mountain a more logical connection, taking away some traverses and allowing for more combos. More lift capacity was also added to existing terrain. It's worthwhile noting that RMR's inbounds terrain is so big that its entirely possible to have a week of skiing without feeling the need to head into the backcountry especially if you hit Revy in one of its periodic storm cycles. If this happens then you'll have the first world problem of lift-served inbounds pow.
But this article is about RMR's backcountry terrain accessible by using the lifts meaning that if you have some backcountry experience and some skins you get a lot of bang for the buck.
Backcountry access at RMR
"Slackcountry" refers to backcountry terrain accessed with the aid of a lift system. Make no mistake though; RMR's slackcountry is serious business. Like most terrain in Western Canada glacial sculpting means that valley floors get steeper and more closed in frequently cliffing out to someplace where your broken frozen body can ragdoll. The probability of needing a SAR callout and/or spending a night out seems to increase with the following factors: Being a young male. Being an "experienced skier" from Ontario. Being an "experienced backcountry skier from Colorado/Utah". Just going for "one short run".
This may all sound like scare tactics but there are countless articles re people getting rescued (if they're lucky) or body recoveries from the backcountry surrounding RMR. Take this terrain seriously. Have a route plan. Have a map. Have communications (cell signal is limited). Have safety and self-rescue equipment. If you don't know what you're doing use guiding services.
In terms of avalanche awareness and openness of terrain RMR definitely seems to get it. For example, the mountain has an Avalanche Ranch where 8 transceivers are buried so you can practice your beacon skills. Bottom line is there are lots of ways to get after it inbounds and out of bounds in the terrain adjoining RMR. Do your homework and be prepared and you won't need that SAR call out.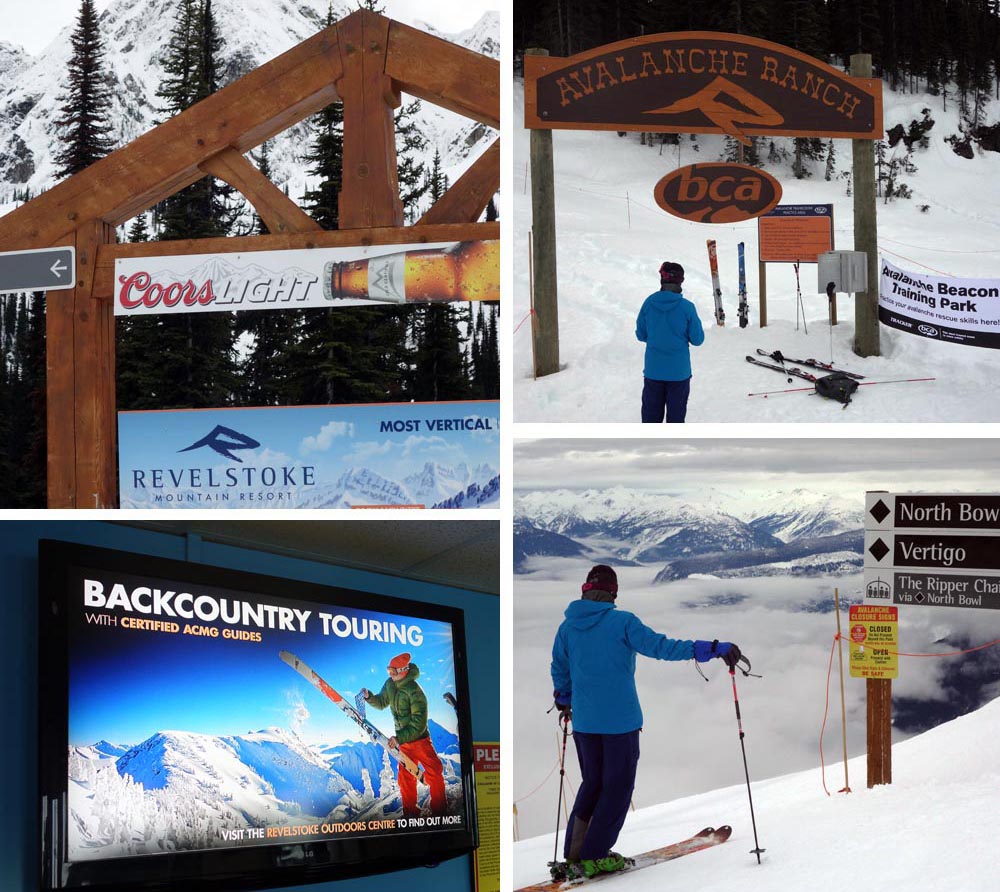 RMR Touring – Montana Bowl
There are many ways to get to the backcountry adjoining RMR. I'm not a believer in hand-holding and providing turn-by-turn GPS tracks as it's my firm conviction that it will give one a false sense of security. If you want some ideas you can get some handy links from other sources but in this article all you'll get below are rough descriptions and route directions. Have a sense of adventure and go explore!
The Montana Bowl area is the frontside of Mt Mackenzie. Accessed from the top of the Stoke Chair one can hike or skin past clearly-demarcated boundary ropelines onto SW facing terrain that is not avalanche-controlled. It's windward and has a solar aspect so manage powder expectations accordingly for bluebird warm days and expect changing conditions as you drop down-slope. There's innumerable 500m runs dropping back SW down in the direction of the Columbia River so direction-finding tends to be easier. However where things go wrong is when people miss the clearly-marked exit groomed cat road that takes you back to the ski area. Miss that road and you WILL have a much more serious experience than just embarrassment as the forest downslope is thick, and begins to cliff out quickly. To emphasize, make sure to stay aware of the 1830m contour to skin and traverse back to the resort and in no-time you'll be getting your fill of quasi-lift-served triple overhead blower pow.
Terrain and long runs can also be accessed by finding gaps in the cornices and cliffs rimming Montana Bowl (which drops off S) and Highway Bowl aka McKenzie's Ass which drops off NE downslope. Do NOT drop off onto N slopes without a game plan as it's a long walk back if you don't know what you're doing.
RMR Touring – North Bowl Lines
This next series of lines will have "directions" that are even more vague. From the "Lemming Line" marked bootpack into North Bowl (accessed from the Stoke Chair) one can traverse fairly far but still be in avalanche-controlled terrain with entry back to the RMR lift system via a series of luge-run style tracks back to the Ripper Chair. Take a look at a map or open your eyes and look at the terrain and you'll see possibilities heading NW and NE. Throw on some skins and gain ridgelines separating Greely Bowl from NE facing terrain and you'll get int widely – spaced big cedars; amazing treed skiing.
If you're not quite up to as long a walk there are innumerable short routes bisecting Greely Bowl which take you back to the safe confines of the ski area boundaries. From there it's entirely possible to cycle the RMR lift system and do multiple laps into North then Greely Bowl and avail yourself of the skin for powder routes.