June 6-9th 2013
GPS Tracks || Video
Introduction
Williams Lake is a town of about 11,000 people located in the Cariboo-Chilcotin Region of BC.  "Willy's Puddle" or the "Puddle" as it's affectionately called is a mere 6 hour drive from Vancouver whether you go via the Trans Canada or through Whistler; although we think that the route through Whistler is much more scenic and relaxing.
It has a reputation of having a huge trail network.   It also has the reputation of having a super friendly welcoming bike community who willingly share.   We last passed through it 12 years ago and were told/nagged by Smoke among others who told us that we were nuts for not going back.  Well enough of that already.   Off we went for yet another road trip
Community
The scene in Williams lake has been developing for a long time; arguably for 25 years  since Mark Savard started Red Shreds Bike Shop.  Marc, or Shreddie as he's often called is too modest to admit it but he showed that its possible for a bike, snowboard and windsurf bum to dream of opening an outdoor recreational shop in a resource community.  It's also possible for that "bum" to become a successful businessman and a pillar of the community.
Use this pic – http://www.pinkbike.com/photo/8818014/(Used by permission – photo by Ian Hylands)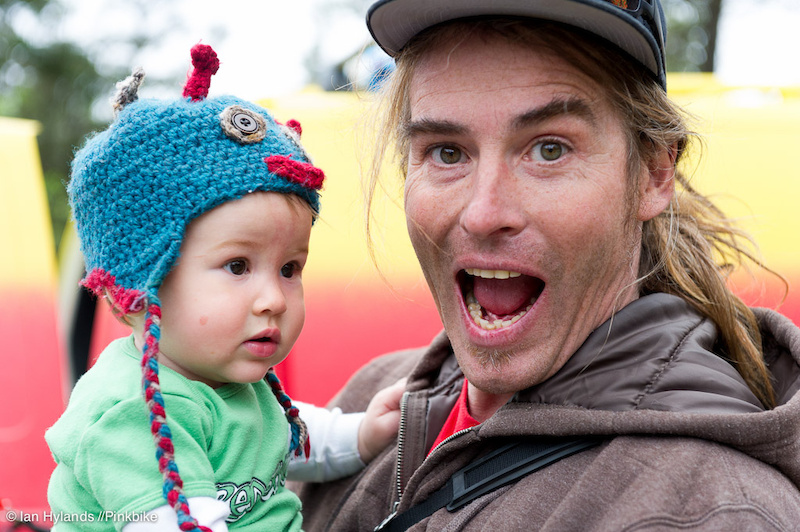 Shreddie arguably planted seeds but the seeds landed in fertile soil.   Even a decade ago Williams Lake was one of the rare Interior communities with workable bike maps and locals were known to be pioneers in exploring the Chilcotins via bike appearing in many WTF areas in the BC backcountry.   Since then a strong mountain bike community has coalesced around a shared passion for riding and perhaps more importantly, for building to create and maintain a diverse network of trails in Williams Lake as well as other areas of the Cariboo including – Quesnel, 100 Mile House and Wells.
More recently the creation of the Cariboo Mountain Bike Consortium, a network of professionals dedicated to supporting mountain biking tourism in the region, is driving the initiative to make this area a Mountain Bike Destination. They do this by supporting new trails, creating maps and signage and holding events. All these facilitate riding in this area and making your experience as full as possible.
Trails
The bottom line is that there is no way a town with a population base this size should have such a large network of trails.   Puddle locals are truly blessed.  Their stoke shows that they realize it.
Williams Lake has 4 riding areas which can be pedalled or shuttled.    The Puddle has had a lot of exposure from the full face stormtrooper crowd on Pinkbike.   We don't have Leatt braces, ride in wifebeaters and without gloves so can't ride the gnarcore trails so instead mainly concentrated on the pedaling trails.  Maps for all areas can be purchased at Red Shreds and are also available on the CMBC website.
We were going to eat at Vidas at 108 mile house on the way, but it was reserved for an event. We had a filling dinner at Firehouse Diner in 100 Mile House.  Also in that town Lenora recommended El Caballo, a restaurant run by a Mexican and German! Hmmm, we'll check that out next time.
We start off on our leisurely drive through the Duffey Lake area. We are here a lot in the winter skiing so its nice to drive through in the summer.
We pull into Lenora's B&B by the evening for relaxing accommodations by the lake. Lenora offers some rooms so give her a call to see if she has space during your visit.
The next day we meet at Red Shreds for some info, buy new brake pads and get their cool Jerseys!
There we meet Jim Leppard who moved to Williams Lake 20 years ago. He was the guy who built one of the first trails on one of the first mountain biking areas in North Vancouver and is still well-respected in the Puddle for building classic bench-cut well routed epics that ride just as well uphill as well as downhill. Jim doesn't shuttle much; while we didn't get a chance to ride with him on this trip we're planning to return for some deathmarches
We started our trip with a ride on Fox Mountain. Summit the dog loves the buffness.
Cool sign for Hillbilly Deluxe!
Some old structures at the top of Hillbilly Deluxe. We rode down Shuttle Bunny, a fast flowy, non stunty trail.
Day 2 we met up with Thomas Schoen, Chris and Justin to ride the new signature trail – Snakes and Ladders.   We climbed from the bottom via [trail names?]  although it seems that you can shuttle to the top.  Our climb gave us a chance to see the snaky moss-lined singletrack weaving through the woods.   There are so many opportunities here. This day truly showed us just how much we scratched the surface of what the Puddle has to offer.
The climbs have technical features.  Here is an up and over to pass a cattle fence.
View point at the towers on Westsyde
Nigel rode my Pivot Firebird on Snakes and Ladders. He seems to like it! Here he is climbing past some history/ old structures.
On Snakes and Ladders Nigel go to ride off some new structures!
On Day 3 we shuttled Desous. The skies were threatening so we took our first run down Soooo Long. Interestingly, we rode this trail 12 years ago on our hardtails. At that time there was a fire lookout here, no map and two trail head signs. – "DH To Fraser and H". We figured H was the hiking trail so we should take the DH To Fraser. We ended up on the other side of Desous and had to ride 30km back. So this time we drove…
Our second run was Prime and Endless. This is a trail built for bigger bikes and yes, a big bike is good on the STEEP loose sections with tight switchbacks. We didn't ride God Speed since Shreddie advised against riding it during this rainy patch of weather. We'll save this for next time. Our last two runs were on the front side – Sous DH and the steeper OOSous. Both are short, fast and end in an XC section to exit on the road.
Having some refreshments on the front side of Desous.
In the city of Williams lake itself they do have the big Boitanio Bike Park. It has 6 major jump lines, a pump track and skills area; its not the typical neutered skills park and has some big boy lines. Check it out when you're in town.  It's behind the Save on Foods.
Info Center on the way into town. The staff were very helpful.
Drive back through Lillooet is "Guaranteed Rugged!"
GPS Tracks
Fox Mountain Trails
Fox Loop –
Length: 12km
Duration: 2.5hours
Vertical: 450m
Shuttle Bunny –
Length 2.7km
Elevation Loss: 300m
Williams Lake – Fox Mountain at EveryTrail

Westsyde Loop
Length: 23.5km
Duration: 4hours
Vertical: 700m
Williams Lake – Westsyde at EveryTrail

De Sous Shuttle
Sooo Long-Prime and Endless-SousDH-OOSous (including Shuttle)
Length: 100km
Duration: 5hours
Vertical: 3000m